If you've spent any significant time in the Upper Midwest in winter, you know that ice activities keep the population moving when temps get low. Whether on a backyard rink or frozen lake or inside an arena, many find ways to use the plentiful ice for curling, skating, hockey, and more. And because those activities are more often passions than pastimes, the indoor rink is a staple of many communities in the region. Ice arenas are also becoming more common in places like Florida, California, and Arizona, where hockey is growing in popularity.
The classic indoor rink is a large, windowless vault with a sheet or two of ice and room for bleachers and locker rooms. It's simple on its face, but it's by no means easy to operate. Keeping the ice cold and the spectators reasonably warm is a challenge, as is keeping energy costs under control in a building with considerable mechanical, lighting, heating, and cooling requirements, even when the sheets are kept permanently frozen.
A new generation of arenas is shifting design tradition with daylit spaces that are far more energy-efficient and multipurpose. At the leading edge of this shift is the Populous-renovated Climate Pledge Arena in Seattle, which, as the name suggests, pledges to be a net-zero-energy facility. The home of the NHL's Seattle Kraken also promises to eliminate all single-use plastics and demonstrate leadership in water conservation, among other environmental goals.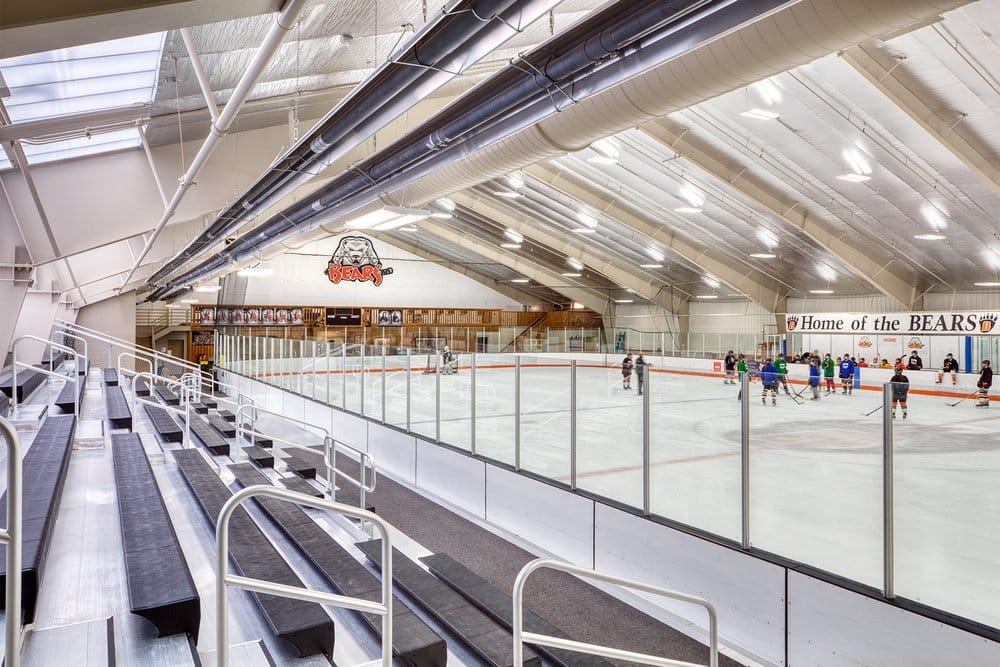 To learn more about the flexible, energy-efficient ice arenas of today and the carbon-neutral facilities of tomorrow, ENTER sat down with JLG Architects. JLG has a long resume of community and collegiate ice arena projects around the country.
Lighting the Lamps
"A traditional rink is a real energy hog," says Randy Lieberg, Senior Ice Planner at JLG. "How do you warm the spectators and freeze the ice? How do you light it well for the athletes? If it's not done correctly, the building bleeds money and creates a bad experience for everyone in the space."
In the past, indoor rinks were designed to rely solely on artificial lighting because daylighting would allow the sun to melt the ice and force the mechanical system to work harder. For a new arena at Sacred Heart University in Fairfield, Connecticut, JLG is incorporating smart window technology into 40-foot-tall walls of glass along more than two sides of the building. "Sacred Heart is using electrochromic glass that senses heat and shades itself automatically," says Lieberg. "We think that as these systems come down in price, more and more community rinks will start to add them to get more natural light into the building and take away that feeling of skating in a sarcophagus."
Lieberg says that community rinks are also turning to translucent fiberglass panels from companies like Kalwall to bring in natural light and reduce energy costs. Facilities like Treasure Island Center's TRIA Rink in St. Paul—the Minnesota Wild's practice facility—have incorporated windows to enhance the player and spectator experience. "A lot of hockey players talk about how their love of the game developed on a frozen lake or pond," says Lieberg. "The more we can bring natural light and an outdoor feel into indoor arenas, the more we can keep the players and spectators in touch with the roots of the game."
"A lot of hockey players talk about how their love of the game developed on a frozen lake or pond. The more we can bring natural light and an outdoor feel into indoor arenas, the more we can keep the players and spectators in touch with the roots of the game."
Artificial lighting systems are becoming more efficient as well, reducing the overall energy footprint of arenas. "LEDs are great because, in addition to being more energy-efficient, they create brighter, more reliable, longer-lasting light," says Lieberg. "They also give off far less radiant heat than a traditional halogen light, which is easier on the ice."
Hot and Cold
Lieberg says that new arenas are getting smarter about where and how heating is used. "In the old days, arenas blasted the heat down from above. There were typically hot spots and cold spots, and the entire system was incredibly inefficient," he explains. "We're trying to put the heat where the spectators are with smarter ducting and design solutions, which both improves the fan experience and helps keep the ice colder because the heat isn't hitting it as much."
Lieberg notes that many modern mechanical systems for arenas are multistage, allowing for more responsive and efficient heating and cooling. "We have systems now that can ramp up quickly before the crowd rolls in without having to expend as much energy as the older systems did," he says.
The focus on the spectator experience extends beyond thermal comfort to creature comforts, as well—and to how fans view the game and move about the building. "We don't just throw in some bleachers with steep stairs and hope for the best," says Lieberg. "We're expanding concourse widths, being strategic about concessions and restroom placement, and thinking about ways to make sure that seating works for all our fans from an accessibility standpoint."
Ice and Water
For arenas in warmer, drier climates, water conservation is as much of a concern as keeping the ice in top condition. "In Arizona, we're looking at how to draw water off the chillers to resurface the ice," says Lieberg. "It takes a ton of water to resurface, so we're exploring several ways we might be able to close the loop on water usage for these facilities, to dramatically reduce their overall needs."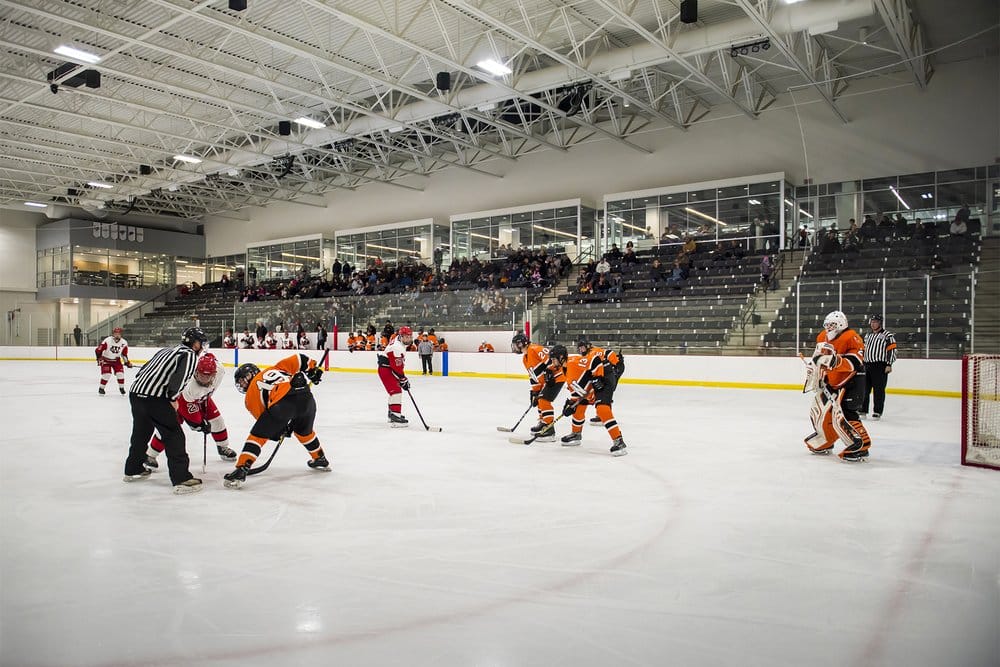 Facilities that pair an ice rink with an aquatics center—a growing trend across the country—pose another set of challenges for design and operations. "The pool areas are naturally high in humidity, while the ice arena works best when it has virtually no humidity," says Lieberg. "Yes, they both need water, so in some ways [the pairing] makes sense. But in terms of the mechanical systems, the challenges are significant. We're working on custom solutions for clients that allow them to maximize efficiencies when the two elements are combined."
The Future of Ice Arenas
This spring, summer, and fall, the JLG arenas team is convening a series of internal charrettes to "rethink the rink"—a phrase coined by one of the firm's founders, the late Lonnie Laffen, AIA. The workshops will focus on sustainability, innovation, user experience, community value, and operational economics.
The latter topic will include an exploration of how to reduce the costs of ramping up and ramping down indoor rinks. "If we can find ways to make it more cost-effective for a facility to go dark when there's no need for ice and to come back online more easily and efficiently when it's time to lace up the skates, that's going to help the facility multitask, whether it's a client's private facility or a community asset," says Lieberg.
JLG is also tracking advances in technology, including the creation of a permafrost layer beneath the ice sheet, to reduce the need for artificial cooling, and the use of "ice banking," whereby ice is generated during off-peak times and coolant or energy produced by the ice itself goes back into the grid for use during peak hours.
"We're even thinking about the image that comes to mind when people think of a rink," says Lieberg. "Why does it have to be snowbound in that mental picture? Why does it have to be an introverted design? Could the ice be clear, like a lake, with a room below it where people could look up and see the skaters?
"Could the ice sheet be retractable, sliding underground and remaining frozen when the facility needs to use the floor beneath it?" he continues. "Or slide outdoors when the weather allows? Could the building be a 360-degree glass pavilion in the heart of a park so skating folds into the landscape? There's no idea we won't explore as we create the next generation of arenas."