Human-centric healthcare environments
Supporting patient, staff, and capital needs
Healthcare makes lives better, and so do we. JLG's award-winning healthcare practice studio focuses on integrated design that streamlines the systems and pathways that your staff and patients rely on. Through intuitive wayfinding, sustainable design, interior detailing, inclusive staff spaces, telehealth, and collaborative delivery models, we create efficiency that emphasizes dignity, equity, and access to healing.
Capital maximization is the key to future resiliency. Our Healthcare practice studio creates long-term partnerships using evidence-based design principles that explore operational feedback throughout the design process and into the future through post occupancy evaluations. JLG partners with you to define strategies for improvement, expansion, and positive change.
Most importantly, we listen. We use curiosity to understand your team's ideas; working together to empower the people who power your healthcare system.
Balancing state-of-the-art with emerging ideas
Healthcare architecture is always evolving, balancing human need with state-of-the-art systems and innovation destined to improve the patient and staff experience. See how we've implemented emerging ideas and new technologies into all our projects.
The latest in healthcare architecture
Our team of architects and interior designers is in the news and in the know. Learn how our spaces help patients, providers, and staff thrive.
FARGO — At a meeting of the Fargo Park District's Facilities Committee on Wednesday, Aug. 31, park board members voiced support for doing more than…
Altru Health System (Grand Forks, N.D.) celebrated the topping off of a new hospital in Grand Forks, according to the website inforum.com. The hospital project comprises seven floors,…
GRAND FORKS – On a brilliantly sunny Wednesday afternoon, a crowd gathered to witness the placement of one of the last beams to be installed…
GRAND FORKS — Altru's future hospital, which is taking shape next to the existing hospital off Columbia Road, is on track for a fall 2024…
JLG's healthcare work goes beyond the building to help set your organization up for success. Our dedicated Healthcare Practice Studio Design Team is made up…
In the spring of 2022, JLG Architects' Healthcare Practice Studio hit the road for a meaningful trip to Rugby, ND, a region considered hometown to…
GRAND FORKS — Altru Health System's new CEO is still settling into the community, but he and other Altru leaders are excited about the ongoing…
At JLG, we Design for Life. Our team creates flexible healthcare experiences that optimize today's patient and provider journey and pave the way for tomorrow's innovations. From exterior pathways to interior wayfinding, JLG elevates every step on the journey to promote healing and support the physical and emotional wellbeing of all people.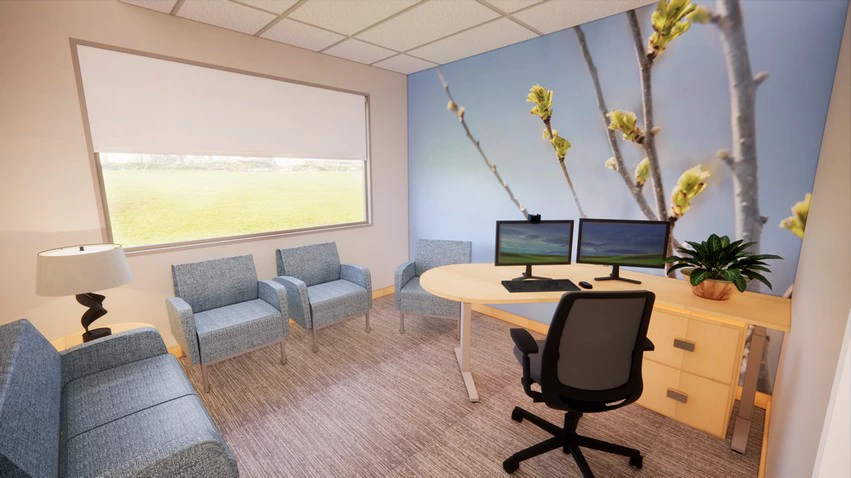 Virtually Confronting the Behavioral & Mental Health Crisis
JLG Architects seeks solutions that pave the way for a more accessible built and virtual mental health environment.
Let us know how we can assist you in making a space that thrives.
"*" indicates required fields