The opening of Ed Robson Arena this month marked a significant milestone for Colorado College. Not only will the arena be the hockey program's first on-campus home, but it will serve as a new venue that was designed with its Colorado Springs surroundings in mind.
Years of planning has culminated in the upcoming opening of Robson Arena, which took place on October 2 with an exhibition game between Colorado College and Air Force Academy. From 1998-2021, the Colorado College Tigers played their home games at the Broadmoore World Arena, the most recent in a line of off-campus facilities that the team has played in since being established in 1938. Not only does Robson Arena eliminate the roughly six-mile commute between Colorado College and the home of its hockey program, but it also provides a venue that is truly optimized for the sport.
A Hockey-Focused Arena
Robson Arena is not designed for basketball—indeed, Colorado College already has an on-campus home for its men's and women's program in Reid Arena. While Robson Arena can accommodate non-ice events, the hockey-focused approach is reflected in the design from JLG Architects.
"I think that the biggest thing going for it is that it's hockey oriented all by itself," said Adam Davidson, Project Architect on the Ed Robson Arena. "It's not trying to be a basketball arena, although it will be able to hold concerts…it's all primarily hockey focused. That means the seating bowl itself is a 360-degree donut around the ice."
With 3,407 seats, Robson Arena is an intimate venue. Above the seating bowl is a 360-degree concourse, giving fans some flexibility in how they take in the action. In addition to traditional fixed seating, fans will also have the option to view the game taking place on the ice while walking the concourse or socializing at a drink rail—reflecting the trend of social spaces in sports venues at both the professional and collegiate ranks.
"You as a fan can watch the game, get up, do the hockey cruise basically and walk around the entire arena and still watch what's going on on the ice and still visit with your friends, or have a drink, or take a stand at one of the standing rails and watch the game from there as well," said Davidson. "It's very fan-friendly and hockey-friendly for that capacity. It gives you great sightlines and you never miss the action."
Robson Arena also includes club level seating on its south side, situated above the main seating bowl. Along with modern fan amenities, Robson Arena provides state-of-the-art facilities for its hockey program, including a film room, lounge area for players, staff offices, and a strength and performance center.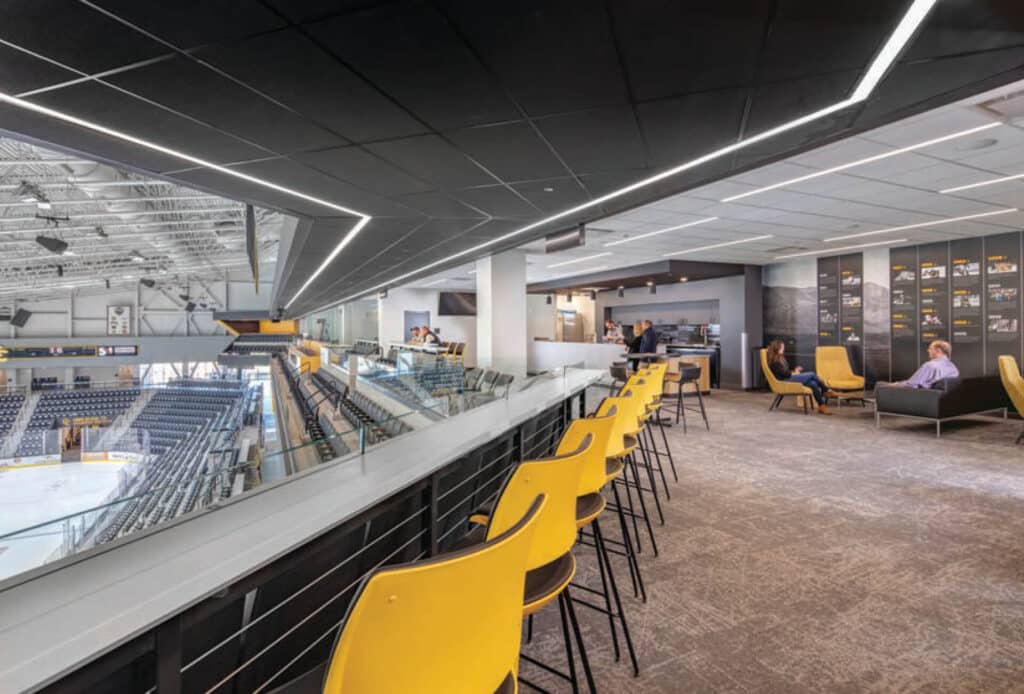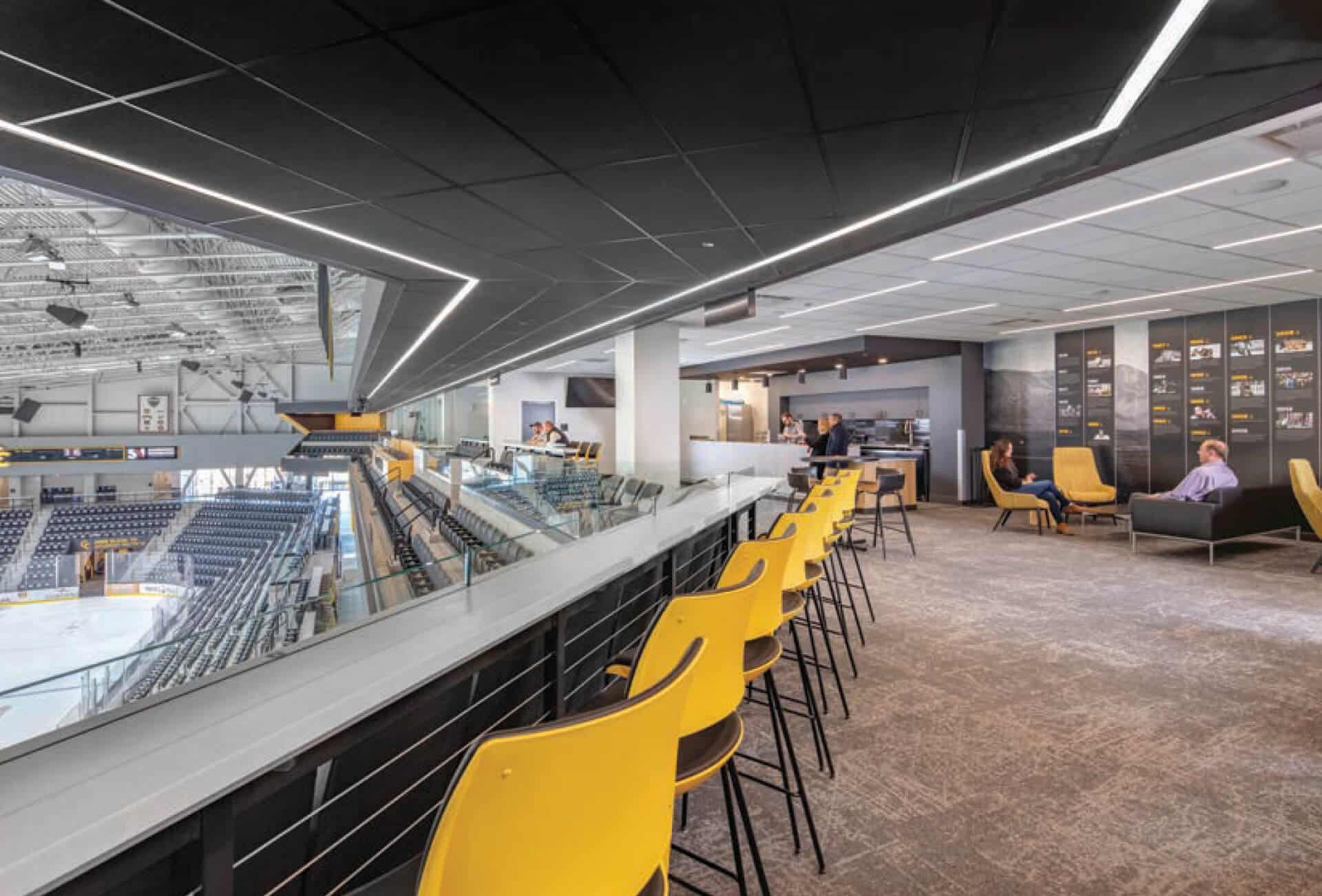 Transparent Design
A signature aspect of Robson Arena's design is its emphasis on transparency. Using large glass windows along three sides of the arena, designers opened up views of the surrounding area while allowing passersby the opportunity to see inside the building. The glass faces south, east and west. According to Davidson, this is reflective of recent trends in arena design that allows for a more open look and feel compared to older venues that are more enclosed. 
"The one thing we've seen before in the trend of hockey arenas [is that] they were very gray buildings," he said. "You had the ice; you had some seats, and it was an enclosed building, and you couldn't see into it and you couldn't see out of it. The trend now in hockey—and in all sports—is to be more transparent."
Perhaps the most distinct use of the glass exterior of Robson Arena is on the west side of the venue. This space houses a glass-wrapped entry lobby that is complete with a grand staircase, while providing views of the surrounding mountains and cityscape.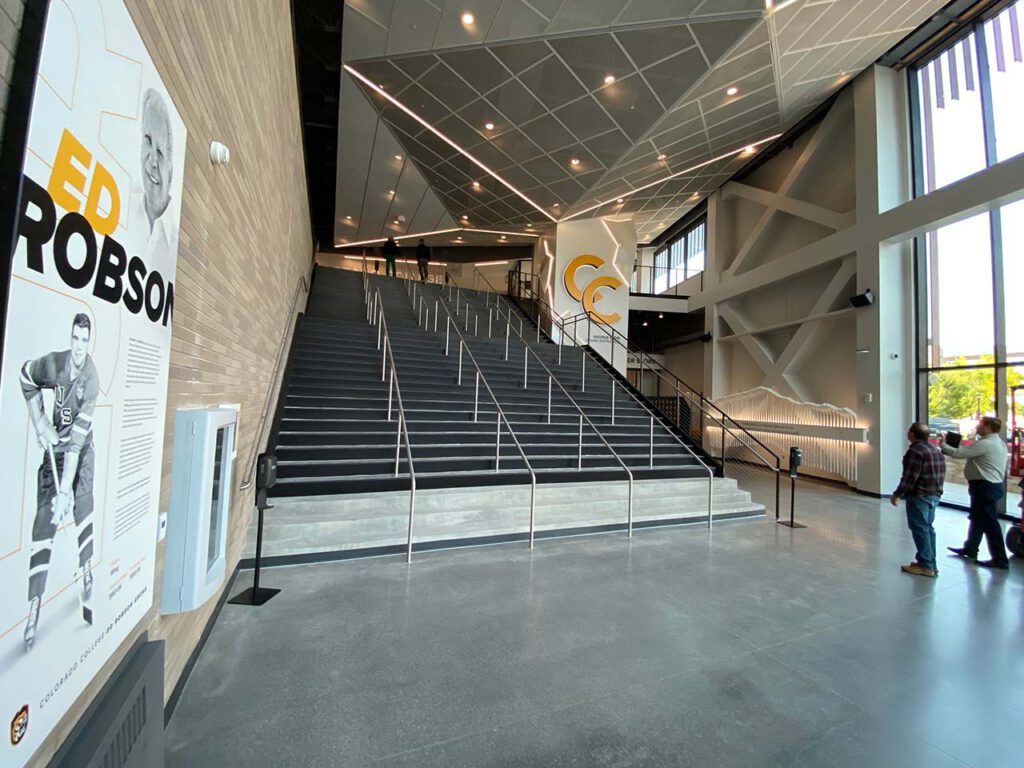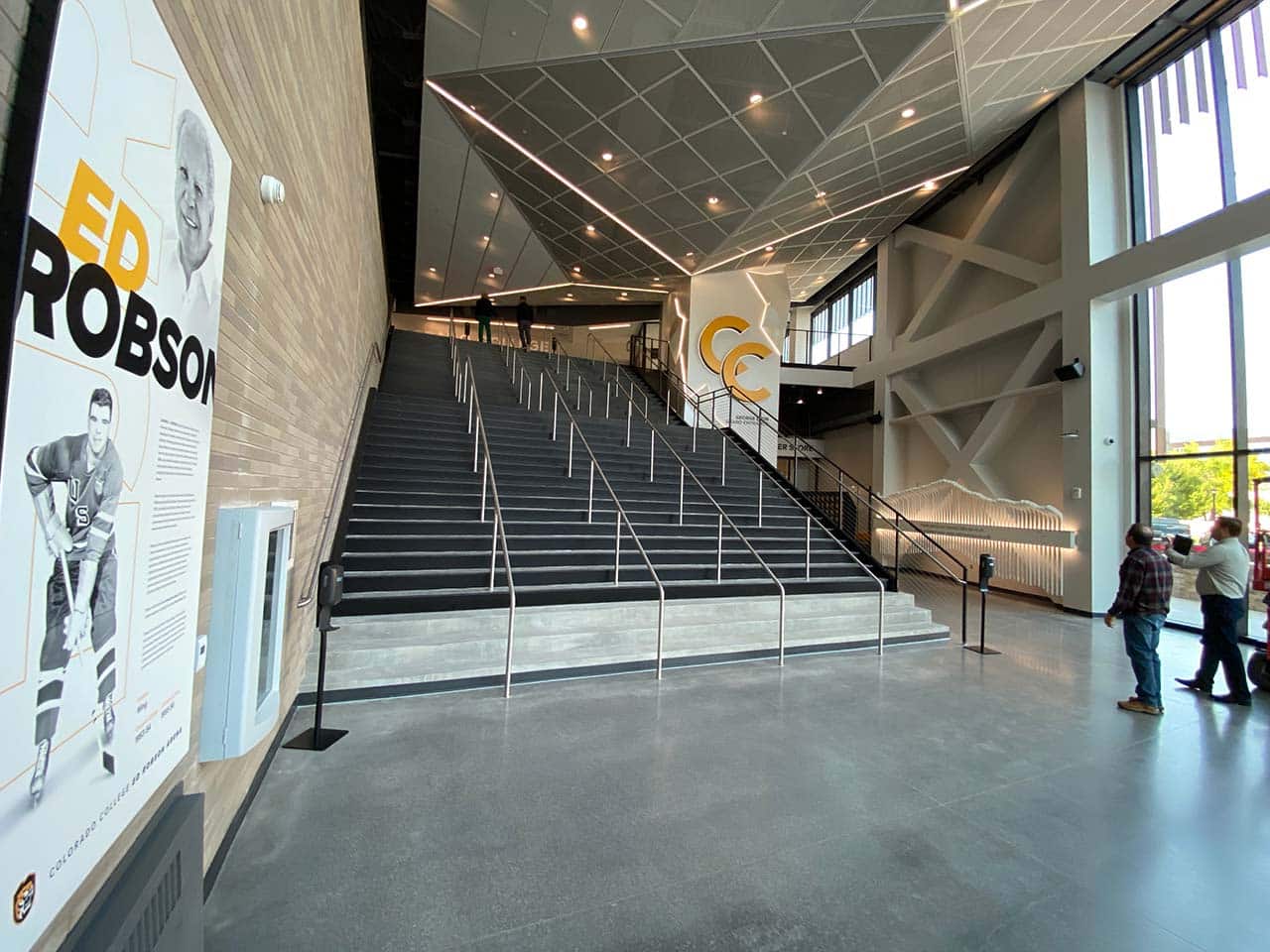 By taking in those views, fans in attendance will be able to see just how Robson Arena's design reflects its surroundings. The look of the arena resembles that of other buildings in the surrounding area, including the Edith Kinney Gaylord Cornerstone Arts Center—an Antoine Predock-designed venue that is located on Colorado College's campus. In addition, Robson Arena's design was carefully scaled to not only fit into the area, but to also acknowledge the mountains surrounding it.
"It was very important for us because the scale of the mountains on the horizon are always present," Davidson noted. "Colorado Springs is kind of the basecamp for the mountains, if you would, so the building has kind of a wedge shape to it that's kind of a symbolic look of a mountain…We were very cognizant about being a good neighbor to the campus and the community that its around."
Robson Arena was built as part of the Colorado Springs City for Champions project, which also includes the U.S. Olympic & Paralympic Museum, a sports medicine and performance center, the USAFA Gateway Visitor Center and Weidner Field—a downtown soccer stadium that is home to USL Championship's Colorado Springs Switchbacks FC. Robson Arena is named for Ed Robson, a former member of the Colorado College hockey team who donated $12 million to the $52-million project.
Photos courtesy Colorado College and JLG Architects.