Nestled into a suburban neighborhood park, the WBLSC building had already been on a journey that included being relocated, reassembled, and re-purposed—a journey that had left the 50-year-old building in a state of disarray, and lacking the stability to support its growing hockey program. Since 1988, their hockey association had been relying on the former tennis club turned rink, but with their enrollment reaching 900 players and growing, they began raising funds to repair their system infrastructure, refrigeration, and ongoing envelope issues. Through a comprehensive assessment of the building, renovation spurred far more than an optimized rink; the Center saw substantial energy savings, the benefits of daylighting, and highly efficient systems that would accommodate future growth. Today, White Bear Lake celebrates the building's renewed look, and the opportunity to elevate community wellness with a bright future as a venue for hockey, ice skating, racquetball, and wallyball. The value of the WBLSC building has been extended another 50 years, reconnecting to the community, and empowering the local hockey program's goals, well into the future.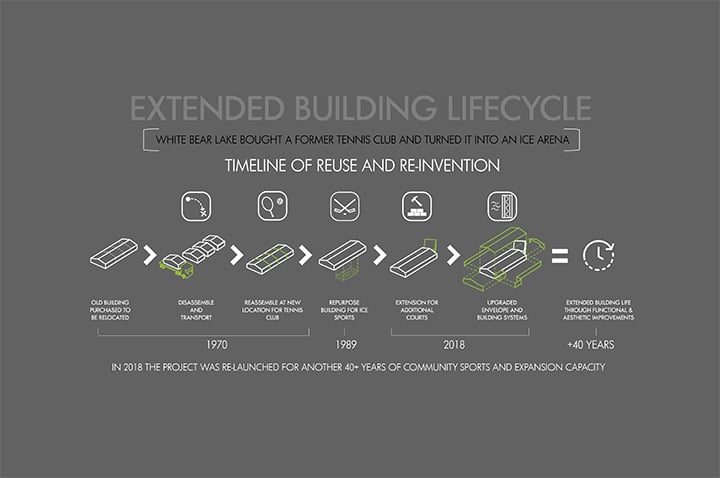 Preconstruction Conditions
White Bear Lake Sports Center Renovation had a multitude of building system issues, including failing mechanical and refrigeration equipment, a leaking roof, and a cracked floor. Within the 38,000-square-foot facility, renovation plans included replacing the floor, replacing the original ceiling with a Low-E ceiling, adding LED lighting, and replacing the dehumidification and refrigeration systems. Work also included adding insulation, replacing the roof with a metal panel system, and upgrading the building's exterior with translucent panels to harvest natural light and illuminate the exterior's mascot.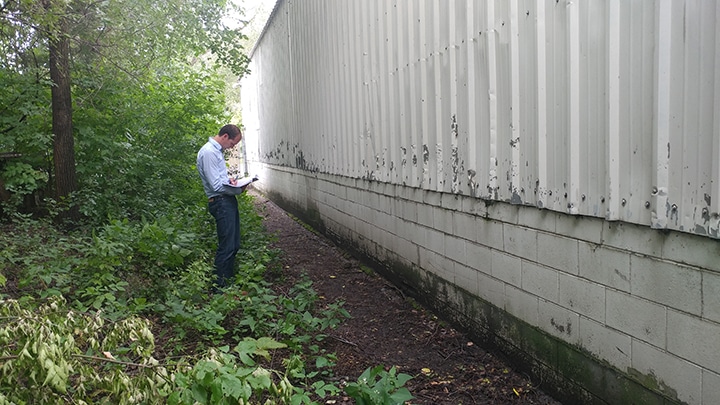 More Than "Just a Renovation"
The WBLSC project emerged from a functional needs assessment focused on mechanical, ice systems, and enclosure repair. Looking beyond the technical needs of the ice rink, the team saw an opportunity to create an inviting community presence, improve ADA accessibility, and advise system efficiency for energy savings and reduced operational costs that would help sustain the Center for future generations.
By redesigning and reworking the exterior skin of the existing pre-engineered structure, the building is re-imagined as a simple silhouette contrasting against the surrounding soft landscaping, yet also fitting the scale and shape of the surrounding neighborhoods. It's a larger-scale building with the intimate look and shape of a home.
To broaden the opportunities for future growth and extend the Center's life span, the design team's priority was to economize exterior and interior materials (an element that is valued and championed by community and city donors). Replacement of inefficient systems and integrated materials reduces both long and short-term energy consumption. With a substantial reduction in annual facility costs, the sports center is set up for sustainable, financial, and environmental operations. Overall, the renovation created a healthier and more inviting environment that can be enjoyed by the entire community for decades to come.