Plans are underway and excitement is mounting for a new school at Grand Forks Air Force Base, but much more work needs to be done before the dream of a new Twining Elementary and Middle School is realized, advocates say.
A group of educators, state legislators, architects, parents and others involved in planning for construction of the school attended an open house Tuesday, Oct. 10, at Twining to share information about progress on the project.
The estimated cost of the preK-8 school is expected to be $83 million, according toBrandon Baumbach, business manager for Grand Forks Public Schools. Eighty percent of the cost would be covered by a federal grant. Local leaders are working on plans to secure the remaining 20% of the cost, or $16.6 million in matching funds, from state and local sources.
Federal Department of Defense funds, totaling $733,000, have been secured for the initial design phase of the project, which is being carried out by JLG Architects.
At the open house Tuesday, Grand Forks Superintendent Terry Brenner, who oversees the city and air base school districts, said construction of the 110,000-square-foot school could begin in summer 2025 and the school could open sometime in 2026; it would serve up to 500 students. Current enrollment is about 300.
The school would also be built to accommodate younger children as well as those with special needs.
Michelle Shepperd, president of the GFAFB School Board, is confident the federal grant application will be approved.
"They want us to see us succeed," she said.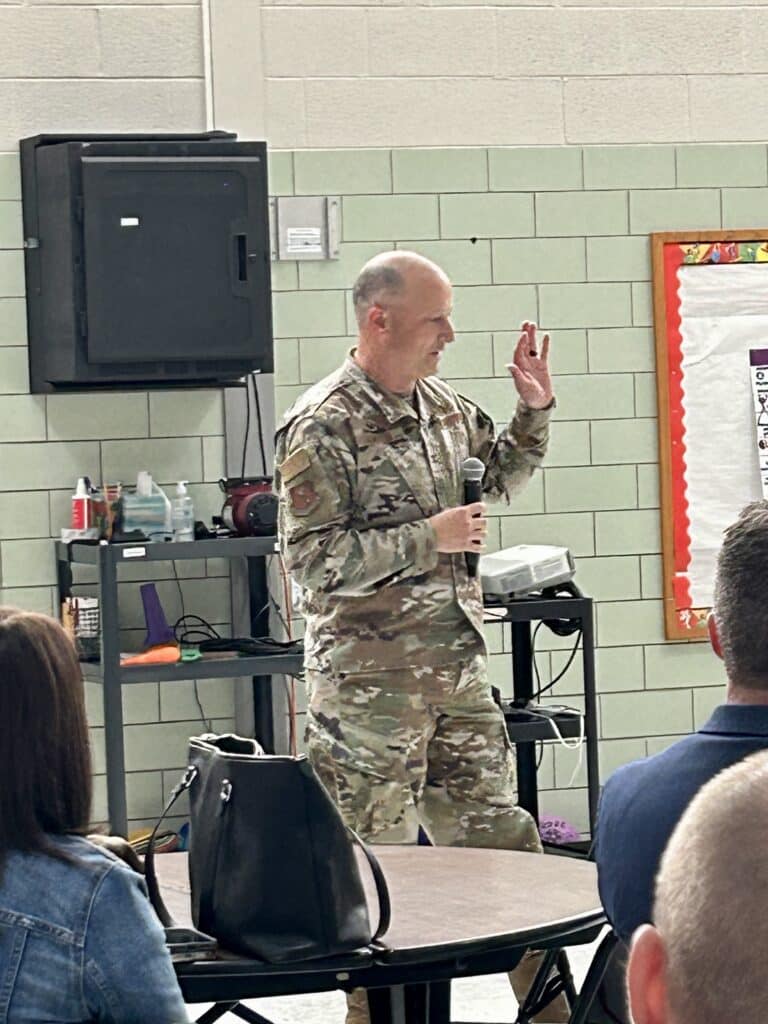 The challenge will be to raise the $16.6 million in matching funds for the project, as required by the federal grant program, Baumbach said.
Local education leaders are working on a plan for an "ask" of about $8 million to be presented to the 2025 North Dakota Legislature, Baumbach said. The remaining $8-plus million will come from federal impact aid and other sources.
The opportunity to build a new school at the base "won't come back around again," he said. The building will be "a 30-year solution. … It will be done, and done right."
State Sen. Scott Meyer, of Grand Forks, who attended the open house, said it will be important to convince state lawmakers of the need for this facility.
Brenner was notified by the Department of Defense in early March that the air base school was one of 10 in the nation eligible for a portion of a $650 million package to remodel or build a school. Members of a roundtable group that Brenner assembled quickly concluded that a new school was needed.
Brenner, who served as principal at Twining early in his career, said "it really tugs at your heartstrings when you see a parent or parents deployed. There is something really special about the families here."
The school's design is an important factor in the planning, he said. "We do want this school to represent the past, present and future of this military installation."
'Pretty antiquated'
The original school building was constructed in 1960 and a gymnasium was added in 2003, said Dr. Eric Lunn, longtime Grand Forks School Board member.
"It's pretty antiquated," he said.
Shepperd said "the teachers here are phenomenal," but they're dealing with conditions that impede teaching and learning.
"We are trying to teach to 21st century standards, but we don't have sufficient space or means to do so," said Shepperd, who also is serving as a classroom specialist this school year at Twining.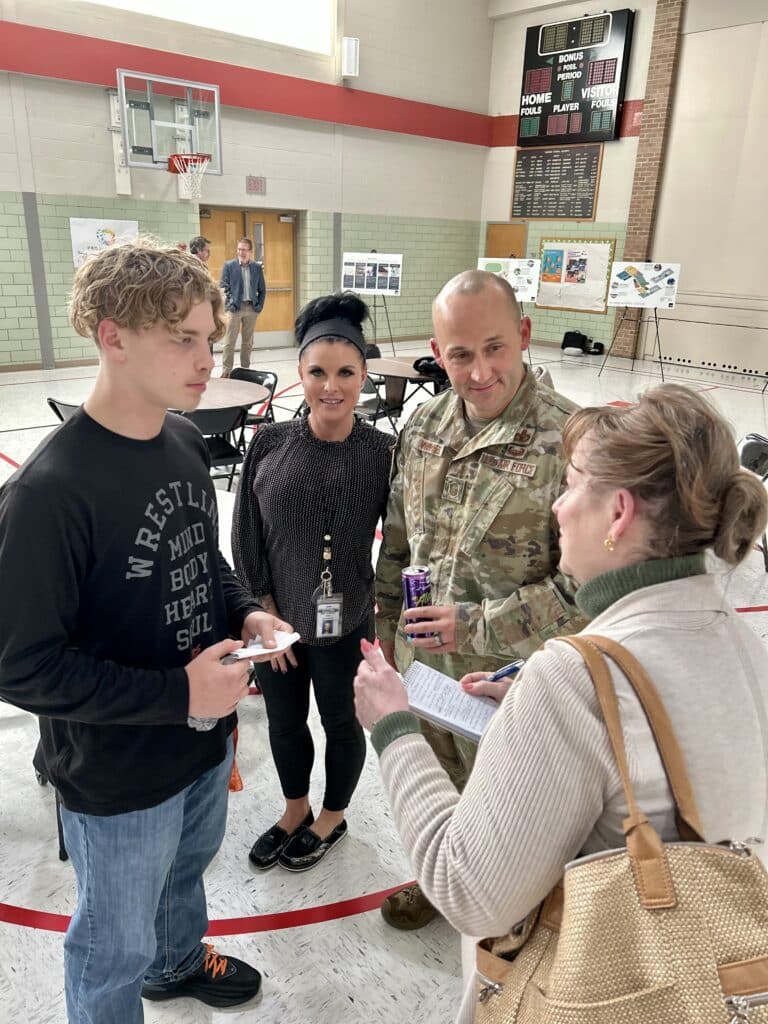 She and her husband, Branden Shepperd, GFAFB school board vice president, have been attached to the base for nine years. They have four children, she said.
In her remarks Tuesday, Shepperd described some of the drawbacks of the current structure, including a peculiar smell constantly emanating near the library, as well as inadequate control over who enters the building and lack of air conditioning.
"Some consider (air conditioning) a luxury," she said. "But is it a luxury when, at the beginning and end of the school year, students must be sent home because of a headache or stomach ache?"
Recruitment tool
Col. David Castor, mission support group commander at GFAFB, said that, while the future of the base "was not so secure 10 or 12 years ago, now Grand Forks is secure and will be for the foreseeable future."
But, "it is difficult to find airmen who want to come here," he said, noting that one of their first considerations is the quality of the school. "We have great teachers, but the facility does not match the quality of the staff."
Castor also said the new structure should include space to meet staff members' child care needs. And Shepperd said the design should be flexible enough to provide high school students, who attend Grand Forks Central High School, "a local hub, where they could have support" and stay on base when the weather makes travel hazardous.
'Unique challenges'
Logan Vorhies, a sophomore at Central High School, attended middle school after his family arrived here in 2020. He told the gathering that he was disappointed in the educational facilities and sports programs at GFAFB.
"As military-connected children, we face unique challenges," Vorhies said, noting circumstances such as divorce, family separations and frequent relocation.
"And the base keeps closing more and more amenities," he said, citing the closure of the bowling alley and movie theater.
A new school could attract highly qualified teachers and staff, Vorhies told the gathering.
While the initial design of the new school focuses heavily on STEM (science, technology, engineering and mathematics) education, Shepperd is seeking to incorporate the arts into the planning, she said.
The current design includes a 350-seat auditorium, which could be used for numerous activities, including retirement ceremonies, graduation events and plays, Shepperd said, noting that there is no auditorium on base.