VALLEY CITY, N.D. — The W.E. Osmon Fieldhouse, often referred to as "The Bubble" because of its appearance, was built in 1960 when Valley City State University had seven sports teams and around 110 athletes. The number of sports teams has doubled and the number of athletes has more than doubled since.
"We don't have room for growth so we need an upgrade," said Valley City State athletic director Jill DeVries. "We need a chance to get some championship-level facilities here."
The school announced a capital "Forward Together" campaign Wednesday, July 21, for an indoor practice facility and addition to W.E. Osmon Fieldhouse, along with upgrades to academic buildings and scholarship. There's an estimated $25 million for the entire project that is set to be separated into three phases.
"We know it's bold, but that's our goal," DeVries said. "We want to be a leader."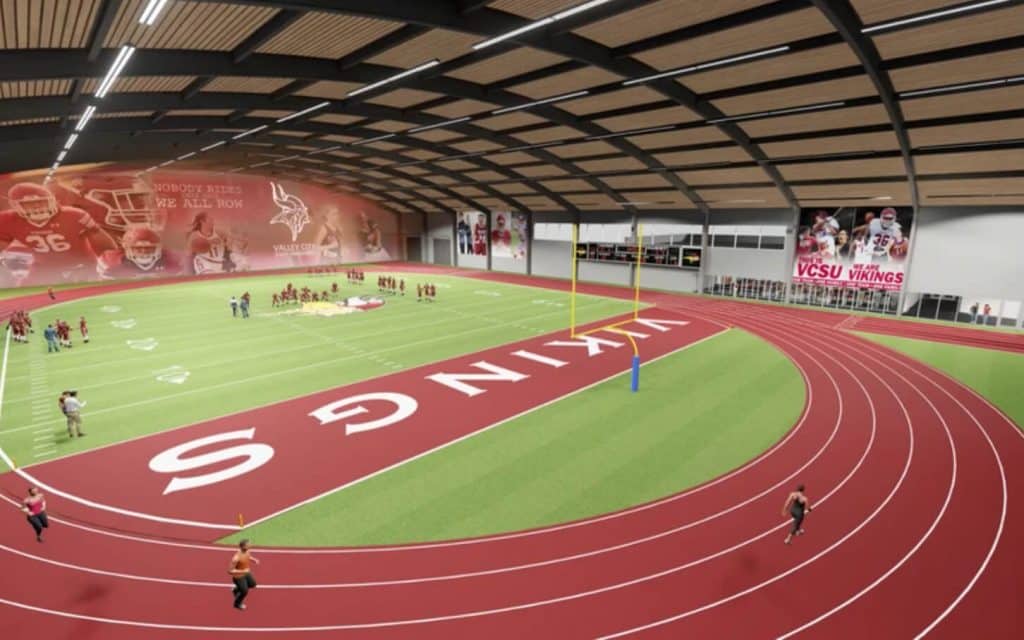 Phase I of the project is tied directly to athletes and includes an indoor turf practice facility with a 200-meter track, updated strength and conditioning and athletic training facilities, new and expanded locker rooms, updated and expanded public areas, classroom and meeting rooms and a Vikings' Hall of Fame.
Phase I is estimated at $18 million for the fieldhouse addition, as well as an additional $1 million in scholarship enhancements that could help hundreds of students pay for their education, VCSU President Alan LaFave said.
"While the facilities always seem to grab the headlines, it's a big picture project for the success of the entire university," LaFave said.
Additional parts of the project will focus on repurposing McCarthy Hall into a school for education and graduate studies and a student center renovation. The student center previously housed a swimming pool that is now closed. That building will be converted into banquet and meeting spaces for a variety of activities.
DeVries said around $3 million has been raised for the project and the school is on the verge of securing another $3 million. LaFave said the school is focusing on private fundraising.
"Our goal is to raise $25 million somewhere in the three-year range," DeVries said.
Valley City State has 14 sports teams and more than 270 athletes that use the Osmon Fieldhouse in some capacity. The Vikings are an NAIA program and a North Star Athletic Association member.
DeVries said the building is often in use from 6 a.m. to 10 p.m. during peak usage.
"I think it's a necessity at this point," DeVries said of the Osmon Fieldhouse. "There just isn't room. It's one building. That's all we have."
The Vikings football team plays on Shelly Ellig Field at Lokken Stadium, but has its locker rooms at Osmon Fieldhouse. The team, which has a roster of around 100 players, has to split its squad into two locker rooms.
Longtime VCSU head football coach Dennis McCulloch said the new locker rooms, training areas and indoor practice facilities are going to be a "difference-maker" for the football program and the entire athletic department.
"You drive around and find beautiful facilities on a lot of college campuses. It's who we are competing against," said McCulloch, who is heading into his 25th season as Vikings head coach. "We know that can be a positive for us in recruiting. It's also the opportunity with how we're going to train kids once they're here. Those indoor workout facilities are huge in North Dakota because we know how the weather gets, especially in the winter time.
"To be able to do something inside is a huge thing, for all sports."
DeVries said the W.E. Osmon Fieldhouse gym will remain the same other than adding air conditioning to that part of the facility with the renovation.
"We'd like to keep some of that tradition," DeVries said. "It's just a unique facility. We want to keep that unique facility the way it is right now."
DeVries teared up Wednesday when she talked about inspiring the next generation of VCSU athletes. She said in an aggressive timeline, breaking ground could come as early as the spring of 2022 depending on how fundraising progresses.
"That's our ambition and we do realize that we're going to embark on something historic," DeVries said. "We will redefine what small college athletics is in the Upper Midwest."
DeVries said potential naming and branding rights will be part of the fundraising effort.
The Vikings won their first men's basketball conference title nearly 100 years ago, Devries pointed out. The school's athletic department has earned more than 130 conference championships since.
"No question this would set us apart from a lot of the schools that we recruit against," McCulloch said. "We've done a lot of good things here without updated facilities for a long time. It's something that we've waited a long time for. It's an exciting moment and opportunity for us."
Forum reporter April Baumgarten contributed to this report.