In 2020, a new $150 million hybrid water treatment plant was opened in Grand Forks, North Dakota. The new plant used advanced parallel treatment methods to replace an aging and dilapidated facility. The new plant featured contributions from an array of engineering groups, including Ulliman Schutte and AE2S.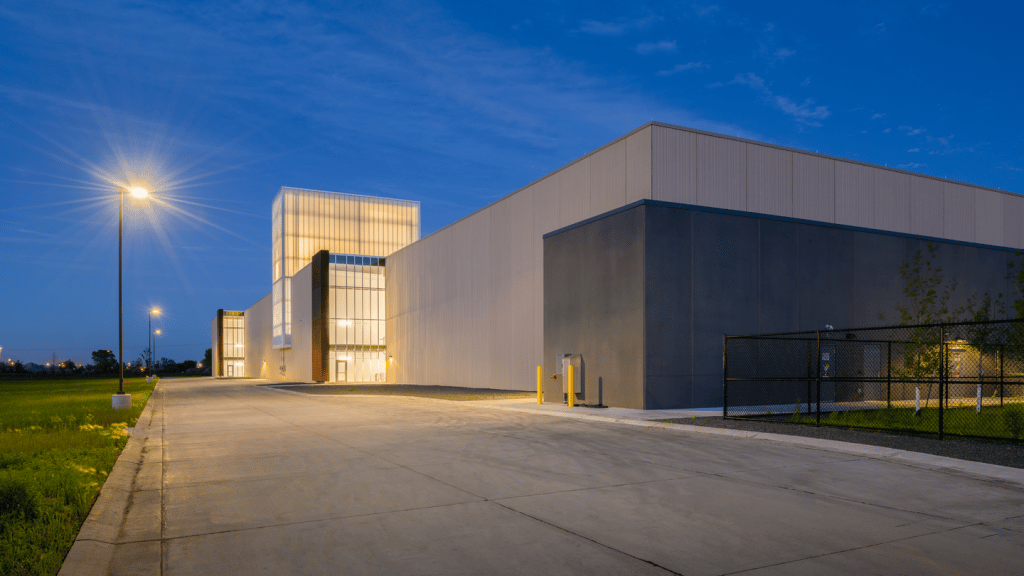 Today JLG Architects, one of the project's key participants, shared a few of the plant's unique features and amenities.
Not only did plant and city administrators achieve their goal of implementing a cleaner and more efficient hybrid water treatment system but they had also laid the groundwork for an energized work environment, educational tours and future expansion. In a design partnership between engineers at AE2S and JLG Architects, the 216,000 square foot project saw completion in July of 2020 and became the largest building construction project in Grand Forks' history.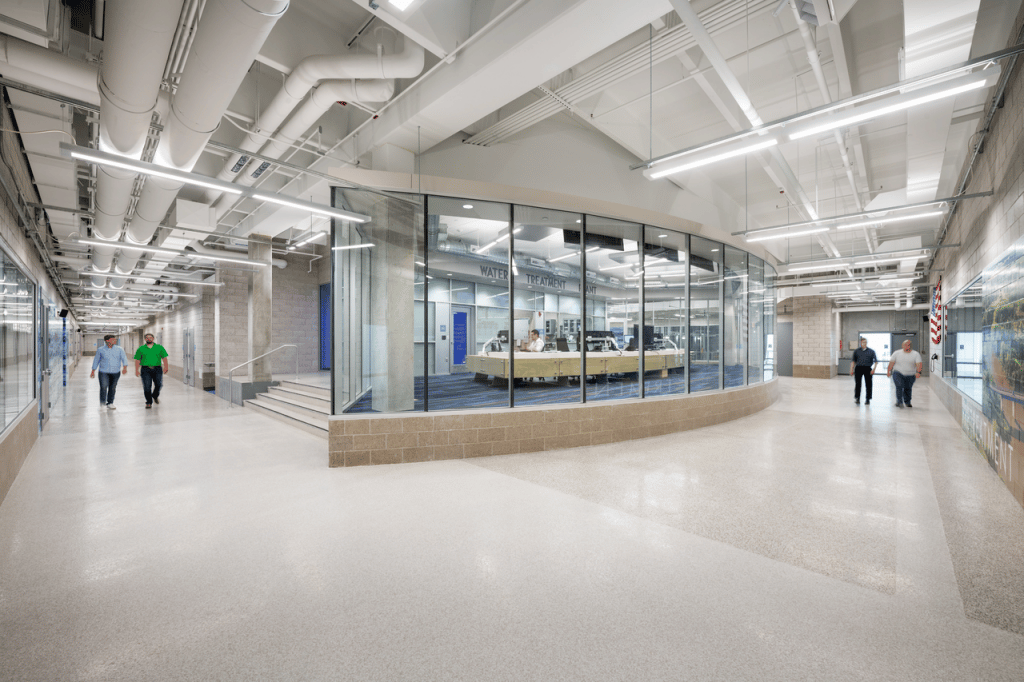 The striking exterior, with its cantilevered, weathering steel structure, predominantly highlights the public spaces with expansive windows.
"To stay within budget, we designed the plant treatment areas to be very straightforward, then concentrated our energy into making an architectural statement with the tubed, cantilevered area," explained JLG's Principal-in-Charge, Scott Jordan-Denny. "Although it's an ultra-industrial architectural feature, it serves to bring a lot of natural light into those public spaces and offices. We were also very intentional with our design, choosing inexpensive and durable materials that we knew could last a hundred years," explained JLG's Principal-in-Charge, Scott Jordan-Denny.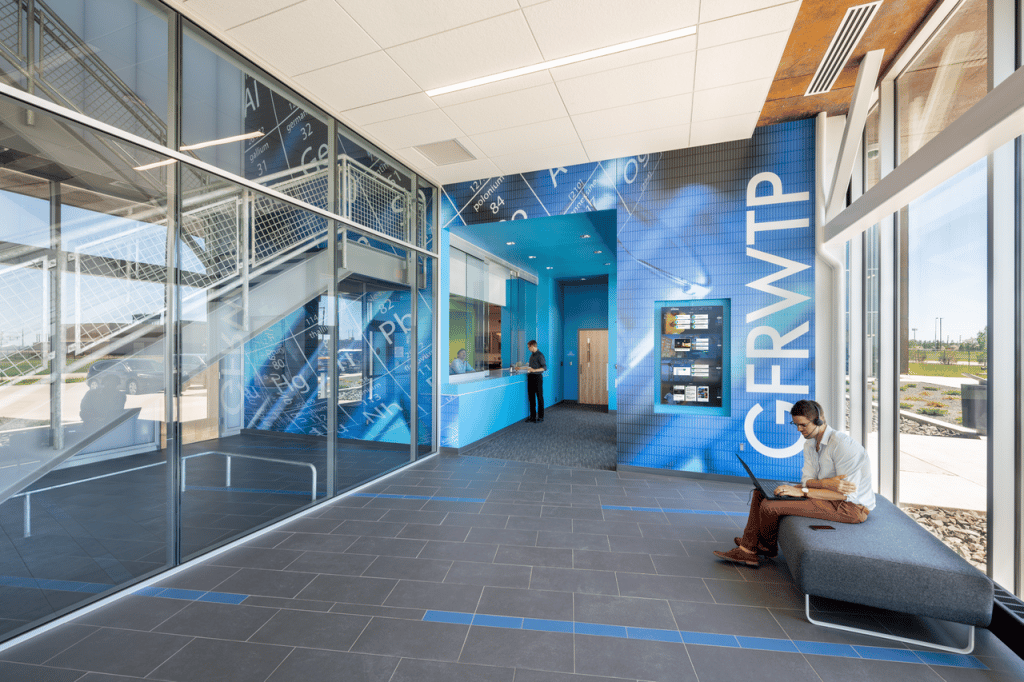 Throughout the exterior, the team incorporated references to the water's origin, the treatment process, and materials that are changed by water –- including a river rock basin and weathering steel which patinas over time for natural corrosion resistance. Along the exterior concrete walls is heavy texture where the river water enters, then a transition to a lighter, less textured concrete – a design that signifies the treatment process from raw river water to pure drinking water. Even the tower that encases the water softener received an aesthetic touch with white translucent paneling.
The GFRWTP was a bigger-picture project that could have been designed like any other windowless industrial or utility building. In this case, city administrators felt the parallel water treatment process, using both conventional technology and a new state-of-the-art membrane system, was an innovation that deserved to be highlighted.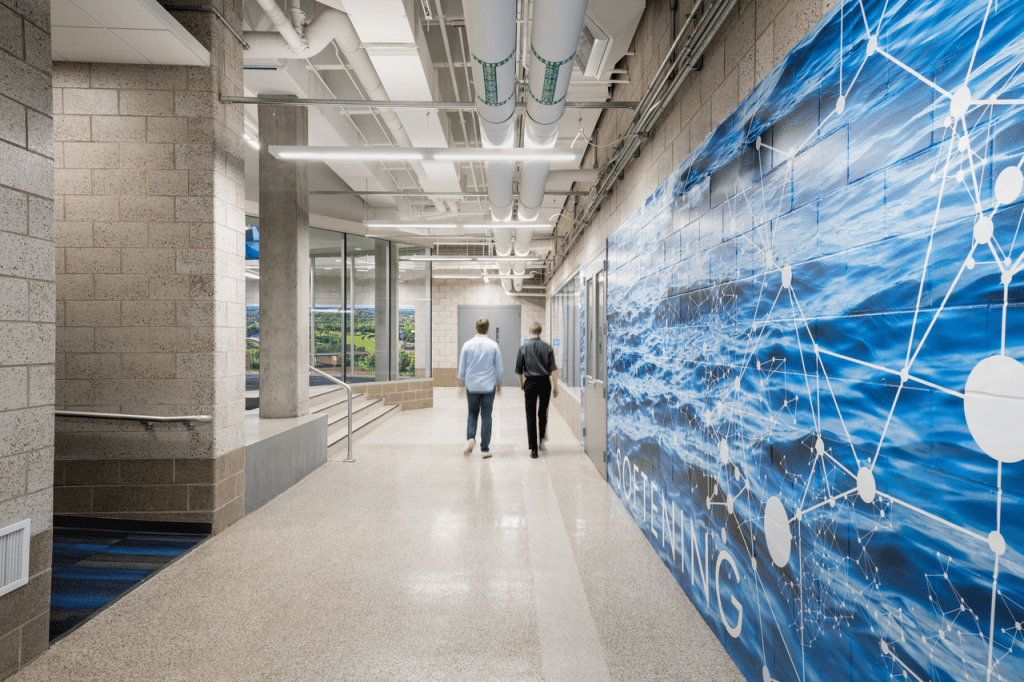 To achieve their vision of designing a structure that could implement the new system, while educating the public through tours, they needed a more vibrant internal environment to contrast the building's three levels of tanks, labs, and treatment equipment. Within the design, they were able to map out a racetrack-style tour that would take guests on an engineering journey from the lobby to the laboratory, past the control room, holding tanks, and testing labs. To highlight specific areas, they created colorful super graphics that represent a microscopic view of the process that tourgoers are experiencing. Much of the firm's design is centered around enhancing the experience of viewing 30-foot-deep treatment and filtration tanks.
Beyond the tour, bright and airy office spaces are curated to capture natural light and outside views. "To get away from the typically dark, industrial atmosphere, we went with an architectural design that could direct light to as many areas of the building and public spaces as possible. Inside, we also used high-contrast tones that were bright and electric," said Jordan-Denny. "As an industrial facility that never shuts down, the employees needed a brighter space that would energize their work culture and environment."
Their staff consists of 50 to 70 people working around the clock, so on-site amenities were also necessary. Throughout the workspace, employees have access to a break room, training room, patio, a fitness and sleep room, full showers, a locker room, as well as their offices and laboratories.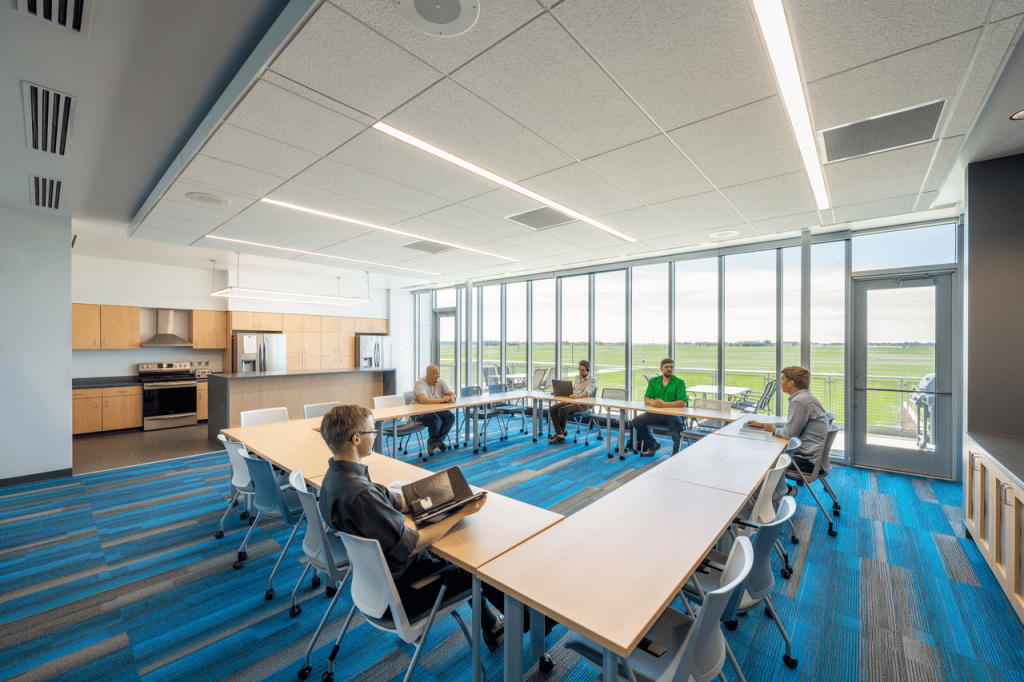 "City Administrator Todd Feland was a force in envisioning this as something more than just a dark box. We came to the city with some interesting ideas−not just a concrete bunker−and they fully embraced them," said JLG's Job Captain, Chris Heidrich.
With its new location, the plant is the first building in the extension of the city's existing industrial park, which inspired its elevated architectural design. Instead of traditional, industrial design, city administrators seized the opportunity to create a structure that would enhance and inspire the new industrial park. They also looked towards the future of their growing city, making sure the plant could expand its footprint north and south, eventually making room for additional filtration and treatment equipment. Today, the treatment plant runs nearly 14 million gallons of water through its system each day, but it's designed to accommodate 20 million. Working with direction from city administrators like Todd Feland, Water Works Director, Melanie Parvey, and Plant Superintendent, Fred Goetz, JLG's exterior design became a catalyst for a brighter vision in industrial development.
"The City of Grand Forks put an immense amount of trust in us, in terms of design and working to create a welcoming environment that was focused on staff wellness and vitality, which was really fun for us. It made the design process explorative − we were able to pitch more progressive ideas, not necessarily just traditional ideas related to industrial design," said Heidrich. "At the end of the day, it still functions with its sole purpose of putting clean, drinkable water out into the city, but it's also a beacon that sets a standard for industrial park design. We loved working with leaders who were open-minded and really wanted to push the envelope of design in what a water treatment plant could be."