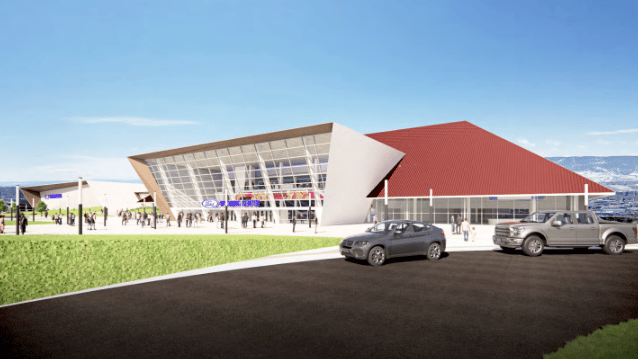 CASPER, Wyo. — On Tuesday, the Casper City Council heard presentations about a study evaluating demand at the Ford Wyoming Center that also included designs for a possible expansion and renovation of the facility.
Estimated construction costs of the full expansion and renovation package total around $70.5 million, Adam Meyerring with JLG Architects told the City Council. Additional costs to deal with things like deferred maintenance, site improvements and other things would bring the total construction costs to about $113.8 million. Those costs don't include soft costs that would be an additional $22.8 million, according to JLG Architects' estimate.
Costs could be scaled back by reducing the scope of the project.
The full expansion proposal could generate an additional $11.5 million per year for the local economy, Catherine Sarrett, president of Strategic Venue Studies, told the City Council. It could generate an additional $232,000 per year in tax revenues for local governments and could create up to 102 additional jobs.
The Ford Wyoming Center hasn't seen a major renovation project since it's construction was completed in 1982. Visit Casper, the City of Casper and OVG Spectra, which manages the Ford Wyoming Center, retained JLG Architects and Strategic Venue Strategies to conduct the study and design.
Major components of the proposed expansion project would include the construction of a 20,000 square-foot multipurpose hall that could accommodate banquets, meetings, exhibitions and competitions in addition to the existing space at the Ford Wyoming Center. Another 6,000 square foot ballroom/meeting room is also part of the design.
Renovations to help the existing Ford Wyoming Center generate more revenue could include the following, according to the study:
-Expand the arena entrance lobby providing ample room for indoor queuing and security checks
-Construct signature entrance elements
-Relocated and reconfigure box office and ticket windows
-Widen concourse where possible
-Incorporate new concession stands and points of sale
-Upgrade restrooms
-Incorporate a concourse-level VIP lounge/bar with a view of the arena floor.
-Create club seating and six to eight VIP boxes with access to the VIP lounge with a configuration that allows for seating to be available for general sale when the lounge is not in use.
-Create up to two Balcony party suites
The presentation to the City Council on Tuesday was for information purposes. City Manager Carter Napier said the Council is not being asked at this time to make any decisions about whether to move forward with the project in part or in full.